Our kind and gracious clients have left a few words about the services we offer at Saev Hernandez Immigration Practice. We think you will find these reviews most helpful in understanding the level of service we aim to provide for every single person we have the pleasure to assist.
As [private company name] has substantially increased the number of visas and expats in the United States, Mr. Saev has been an outstanding asset. Mr. Saev has repeatedly gone above and beyond to provide exceptional counsel. Not only has Mr. Saev successfully filed business visitor, TN, H-1B, L1-A, L-1B , and permanent residence cases, he has repeatedly proposed creative solutions and met tight deadlines. In addition to strategizing on difficult cases, he takes the time to explain the details, provides options for each case, and is upfront regarding potential risks. Further, his willingness to extend his availability past work hours to attend the customs office at the airport in Nashville or conference calls with upper management has benefited the Company immensely. His professionalism, patience and expertise make him a welcome partner as he has served as my "go to" person on immigration matters for the past several years. Without a doubt, any company or individual that chooses to work with Mr. Saev will be in good hands. I strongly recommend Mr. Saev for all of your immigration needs.
–E.G., HR Generalist
Ms. Hernandez is terrific to work with. She is extremely knowledgeable and is genuinely concerned about her clients' needs. She goes the extra mile to make sure you understand the process and updates you regularly on the progress with your case. It is my pleasure to say she receives my highest recommendation.
–C.F., HR Manager
I have experienced the services of Milen Saev for the last 2 years on TN/H1B Visa application process and was impressed with the outstanding level of expertise and dedication of the details in the process that helps you to know/understand overall steps without doubts and with a high level of efficiency/effectiveness. Moreover, he is a person oriented lawyer that brings you the trust and confidentiality since the beginning of the attorney service until the last step of the process, and all the time is showing key values like respect/ honesty/ integrity that in my previous experience with lawyers are intrinsic points not easy to find everywhere. That's why I strongly recommend to Milen Saev for any immigration matters you would have.
–L.C., Corporate Planning Manager
Ms. Hernandez helped my family navigate the complicated immigration process with a high level of customer service, attentiveness, and a "we care" attitude I've seldom experienced. No hidden fees, extremely responsive, and thoroughly professional. Not only did we receive our visa and green card much faster than anticipated, we also received the Expedited US Passport….still can't believe how smooth and easy she and her firm made this experience seem. Not like working with a lawyer – more like a family friend you can always count on…
–Dwayne T., HR Manager
Here are our reviews kindly left on Google: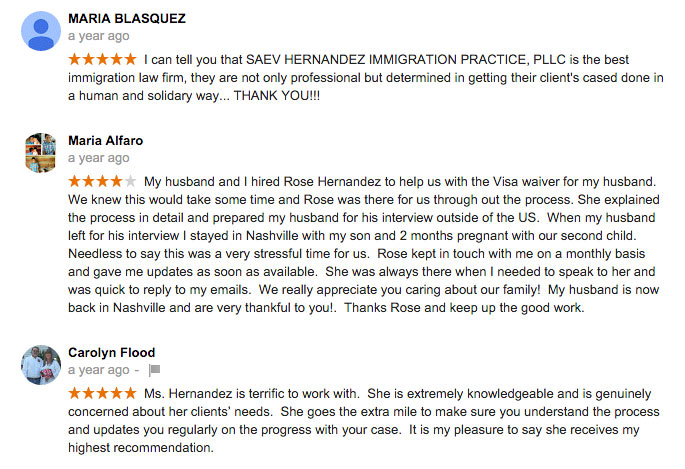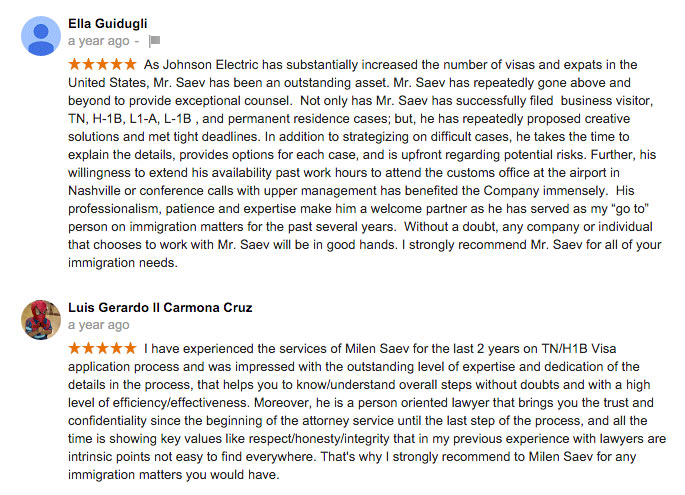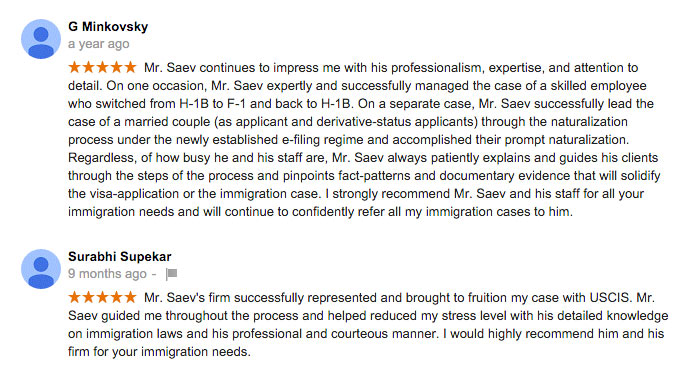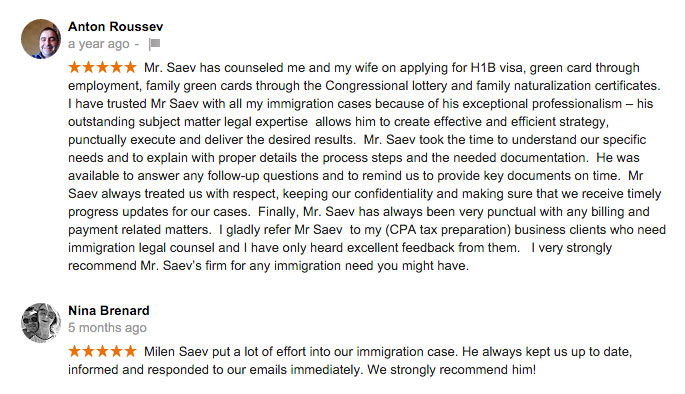 Here are our reviews graciously left on Yelp: